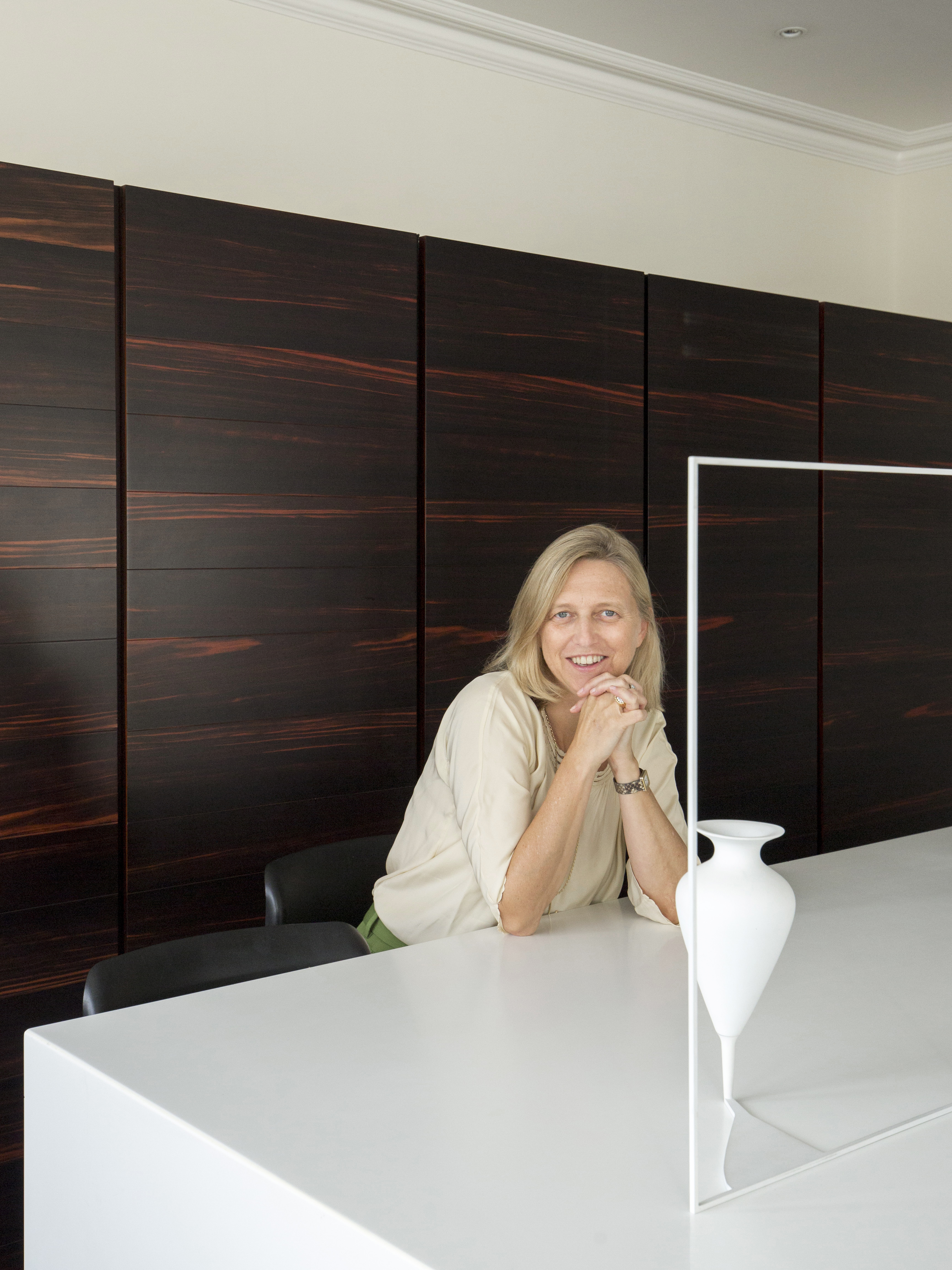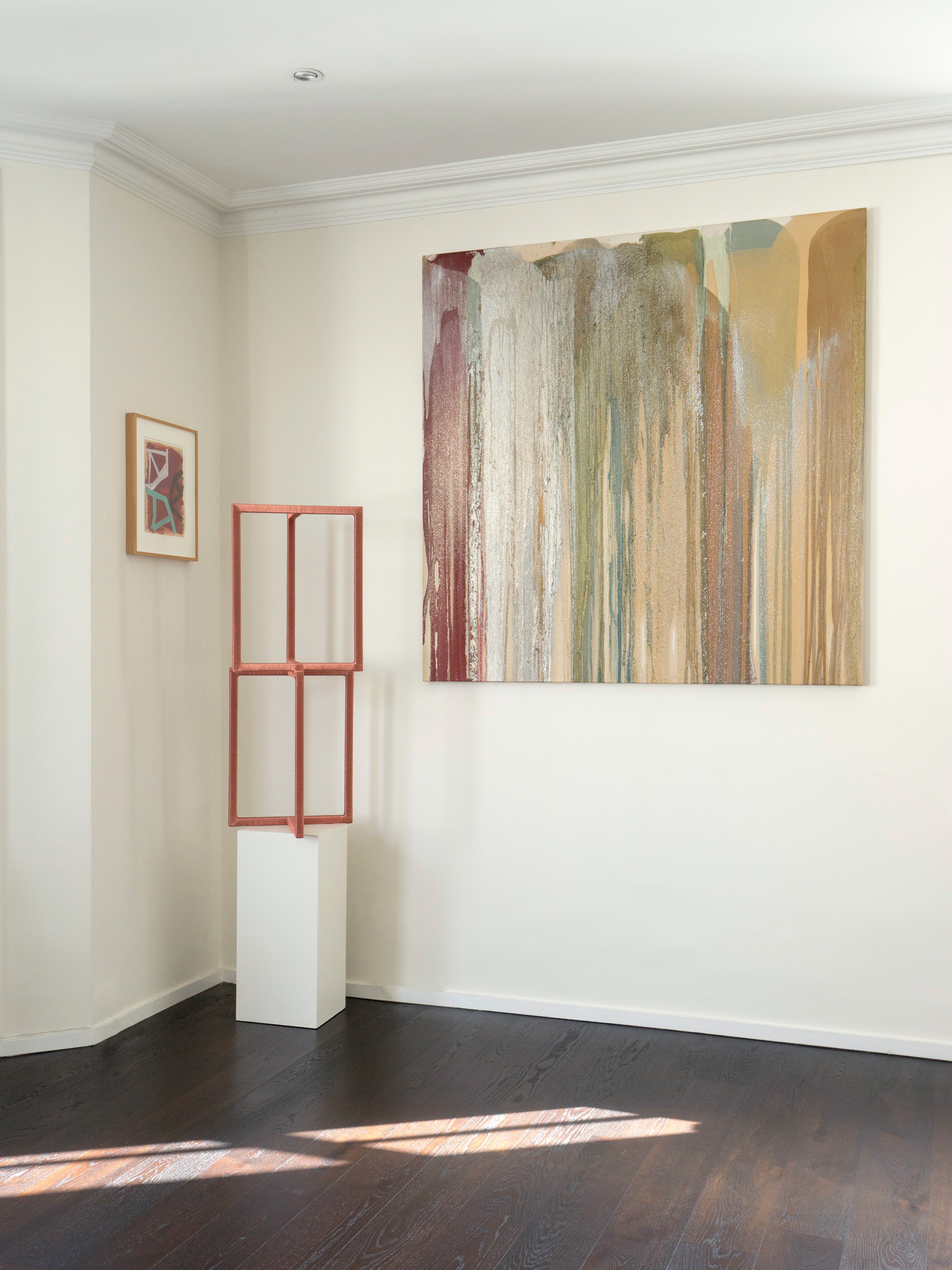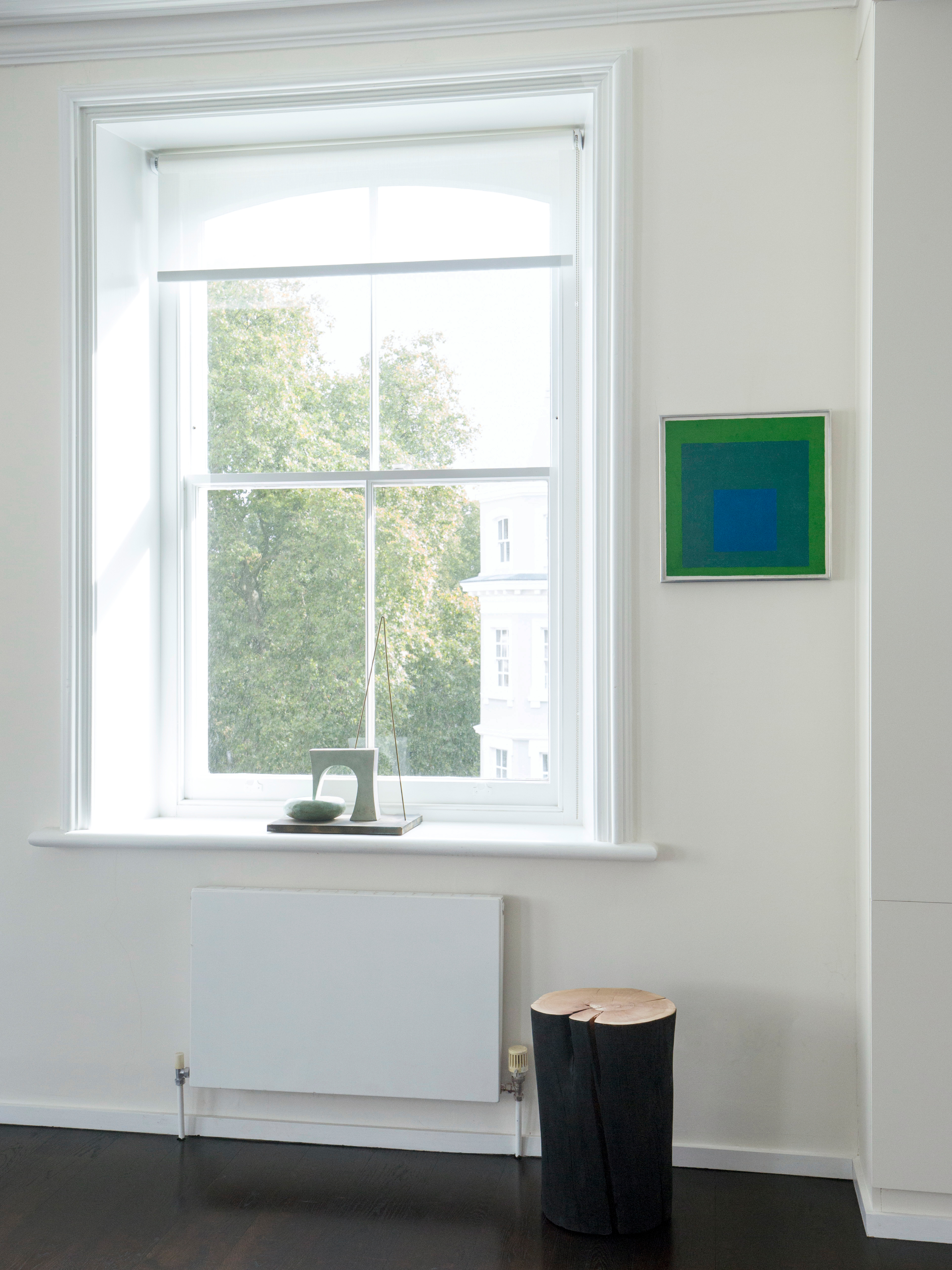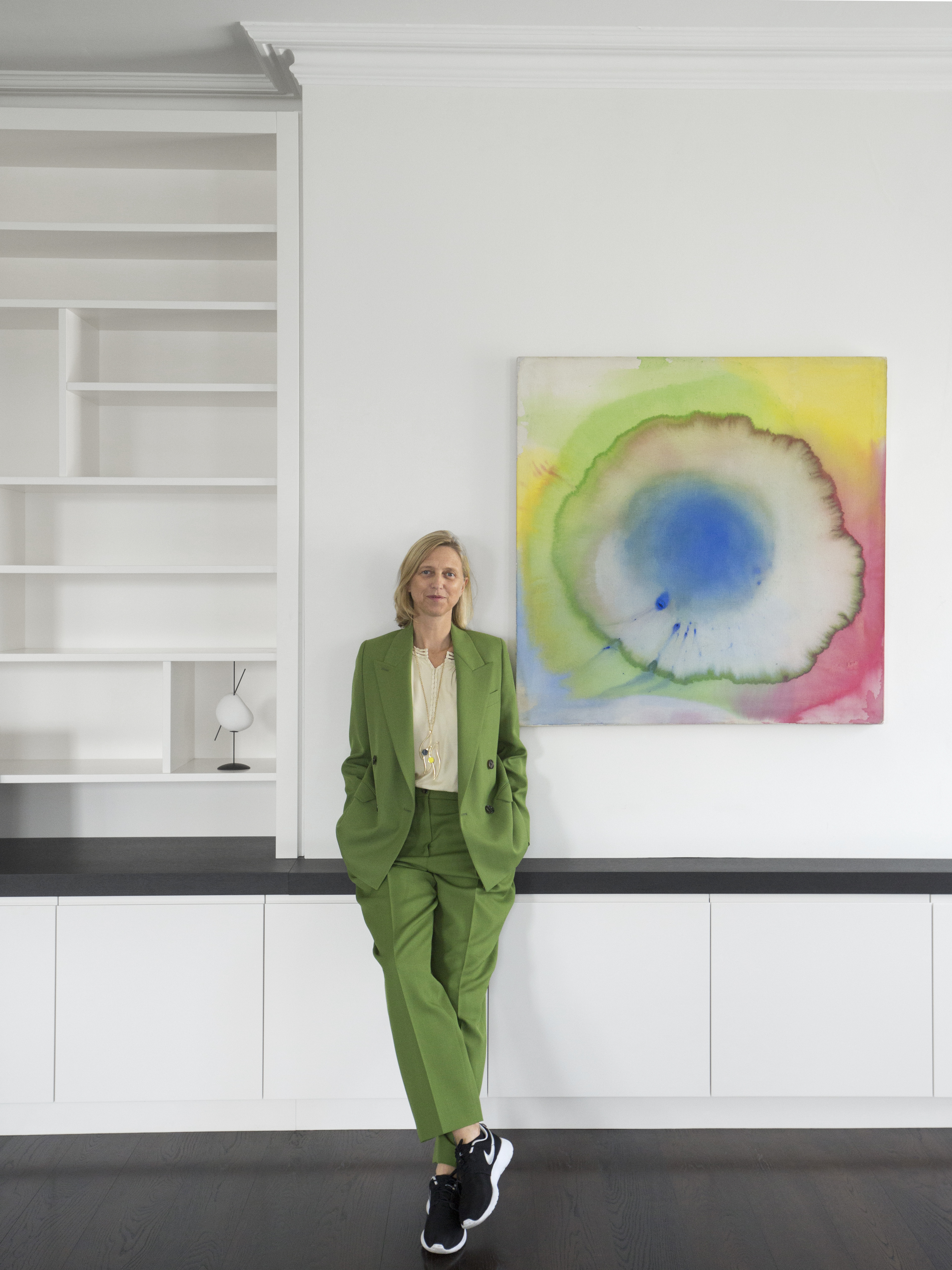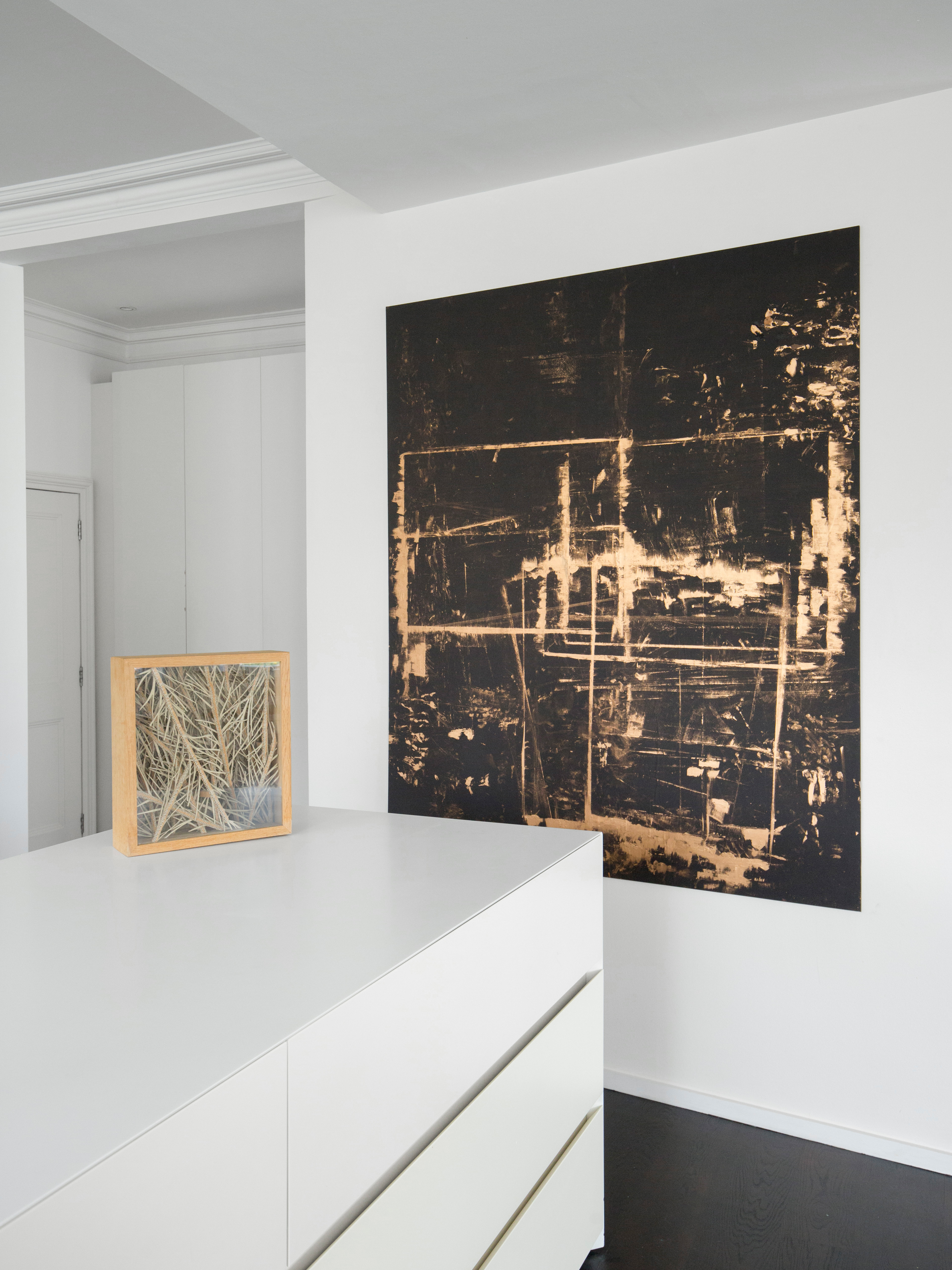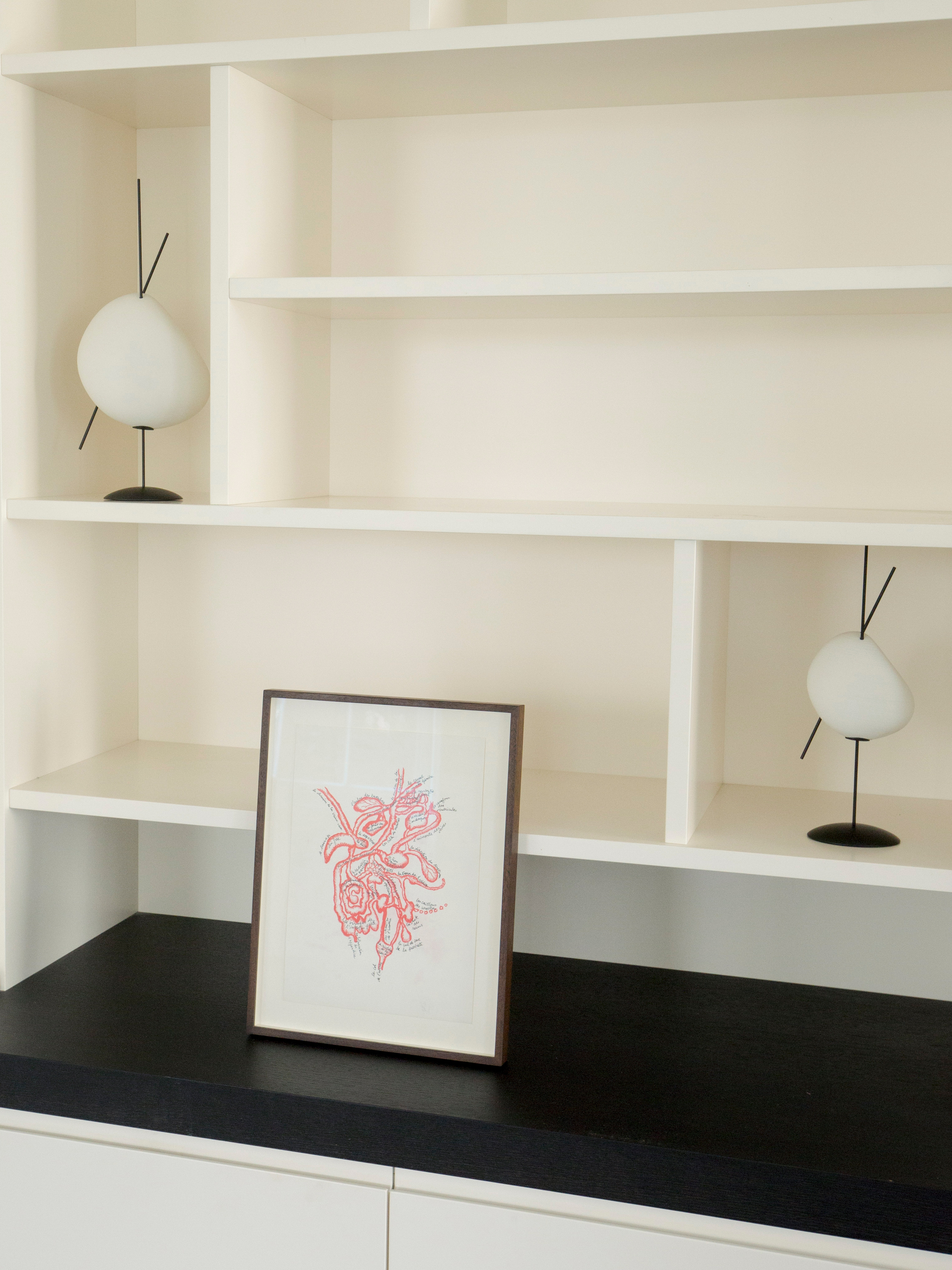 Living with Art
Anne-Pierre d'Albis Ganem, Collector
Founder of The Club in London, and of Parcours Saint-Germain in Paris, Anne-Pierre d'Albis-Ganem started her collection over twenty years ago, which now holds landmark works by modern and contemporary masters such as Paul Klee, Josef Albers, Robert Rauschenberg and Marisa Merz along a new generation of internationally acclaimed artists, including Laure Prouvost, John Armleder, Anthony Gormley, Oscar Murillo, Alice Anderson and Ellie MacGarry. 
How and when did you first get involved in the arts?
My family were art collectors and experts. I come from the Haviland family who created the porcelain industry in Limoges; it is a family tradition to support artists and establish long and personal relationships with them. Historically, Haviland collaborated with Vassily Kandinsky and Arman who made plates and tea sets for them. With such a background, it was quite natural for me to be interested in art history and I went on to study it at university. I then worked for the Centre Pompidou in Paris, in the Design Department. It was a fabulous experience and an honour to work with international designers like Gaetano Pesce or Ettore Sottsass on major retrospective exhibitions at the museum.
In 2000, you founded The Parcours Saint-Germain, a pioneering art trail in the heart of Paris. Can you tell us more about this amazing project? 
The Parcours as a concept came to me at a moment when I felt it was crucial to bring contemporary artists back into a neighbourhood that had been slowly invaded by a massive arrival of luxury stores in the very calm and peaceful village that is Saint Germain des Prés. The idea was to convince flagship stores and brand partners like Christian Dior, Armani and Cartier to participate in a large-scale art exhibition that would offer artists the possibility to present their work in public places and within the mythical context of Saint Germain-des-Prés, its streets, cafés, squares, but also its luxury shops. At the time it was a new concept and a first for the artists to confront their universe with the world of fashion!
Every year, over a period of two weeks, the area undergoes a complete metamorphosis with temporary art installations, which are always imagined and specifically designed for the venues that host them. The format has allowed many artists over the past twenty years to break away from more standard institutions such as museums and galleries, to confront life in the street. The Parcours seeks, in a festive atmosphere, to bring together architectural heritage, modern urban spaces and diverse forms of contemporary creation such as photography, video images, installations, design, graphics or illustration. 
As a collector, how important is it for you to support emerging artists? 
For me, supporting artists is not only about acquiring their work and showing them in exhibitions, it is also about helping them and introducing them to institutions. I have always been involved with institutional boards and committees: as General Secretary for The Friends of the Palais de Tokyo and The Tokyo art Club for ten years, as a member of the board and artistic committee of the Fluxus Association founded by the French Institute and British Council to support artists both in France and the UK.
It is important to be involved and support art beyond the passion of collecting, to be an active patron in museums, to show artists we believe in and present their work to professionals. Emerging artists especially need strong collectors behind them.
What do you collect? 
My very first acquisition was of the photographer Ange Leccia during the first edition of The Parcours twenty years ago; I bought four pictures. Over the years, I pursued the idea of buying pieces from the artists I collaborated with through The Parcours, such as Laurent Grasso, John Armleder, Pae White, Erwin Wurm… I gradually extended my interest to more confirmed artists such as Anthony Gormley, Marisa Merz, Paul Klee and Joseph Albers. I keep an open eye on what is new and presented by galleries that I trust; my most recent acquisition is a work by Oscar Murillo.
How do you buy art? 
I visit a lot of galleries, I attend art fairs like Frieze, Fiac, Paris Photo but also international art events like the Venice Biennale. I go to auction houses and also buy through new online platforms like Canopy Collections. I literally spend my time discovering artists, it is my passion!
What are the most meaningful pieces in your collection? 
Of course, it would be easy to say that the most meaningful pieces in my collection are the most historic pieces — Joseph Albers, Paul Klee, Marisa Merz or Robert Rauschenberg… but I feel so proud when I look at the artists that I discovered many years ago and who have now become international stars like John Armleder, Raymond Petitbon, Marcel Dzama, Latifa Echkacht, Alicja Kwade or Ugo Rondinone. Over the past ten years, I would say my top discoveries have been Alice Anderson, Oliver Beer, Ulrike Muller and Mai Thu Perret. As for the latest ones, I am discovering the figurative paintings of Marcella Barcelo and Ellie MacGarry.
In 2015, you founded The Club in London, which offers exclusive private events to its members who all share a passion for art. Can anyone join The Club? 
I first had the idea of creating a club when I was living in Paris, acting as a board member for The Tokyo Art Club at The Palais de Tokyo. I used to curate programmes around the exhibitions and artists shown there, for the patrons of the institution. When I moved to London eight years ago, I had the opportunity to create this club and offer my expertise. I wanted to initiate a private project that would also raise funds for art and museums, and offer a diverse programme to its members.
The Club is a private group of patrons, art collectors, intellectuals and open-minded people for which I organise very privileged access to artist's studios, galleries, museums, art centres but also encounters with eminent curators, museum directors and art historians. The Club's members spread the world around them and invite their friends to join; it is important to create a community. Our programme guarantees visits and speakers of the highest quality. I keep a thorough eye on what's going on in the world and particularly in London, Paris and Brussels, and I invite artists, designers and curators who I fundamentally believe have something different to say. 
Three artists from Canopy Collections whose work you would live with? 
Sarah Lederman, for the vast fields of colour in her paintings, and because I'm naturally more drawn to abstraction. I must admit there is not much figurative art in my collection, but I'm developing a strong interest in the work of Charlotte Beaudry and Ellie MacGarry. Their approach to figuration is direct, with no contextualisation, and therefore bear their own iconicity. And Laure Prouvost of course, with her sign paintings that remind me of the conceptual practice of On Kawara.
Do you have any advice to impart to someone who would like to start collecting art?
When I ask this question to gallerists and art experts, their answer is always the same: 'Buy art that resonates with you first, what you like deeply and, more importantly, what you can live with'. Living with art is the most important part. Art needs to have a special and very personal dialogue with your inner conscience, it sharpens your creativity and helps you either meditate, rest or stimulate your brain. If you're trying to buy art in order to speculate, that's when you make the biggest mistakes.
Watch a conversation between Anne-Pierre d'Albis Ganem and Louise Chignac about our joint exhibition Double Perspective, which presented artists from Canopy Collections alongside a selection of artworks from Anne-Pierre's private collection.