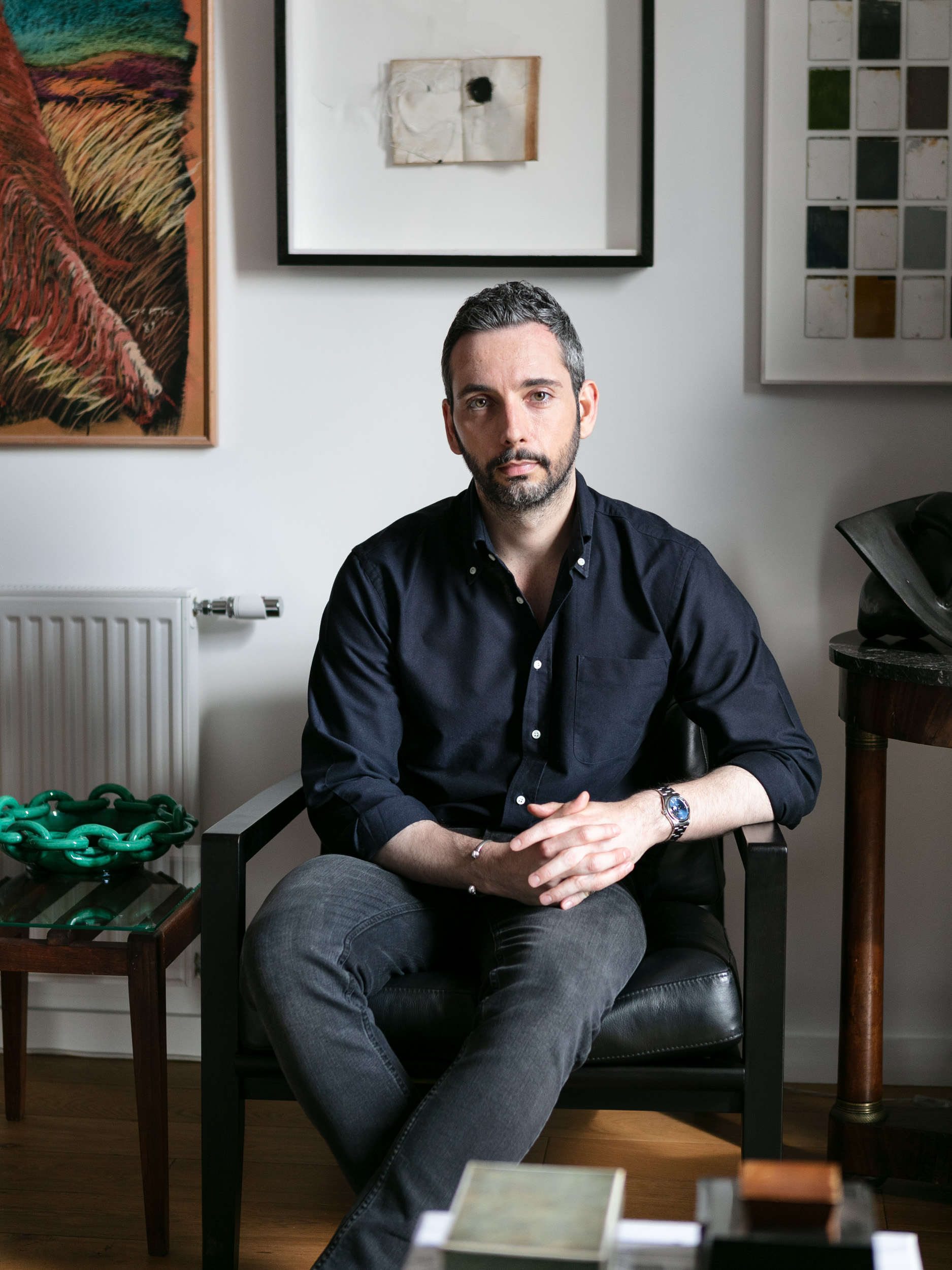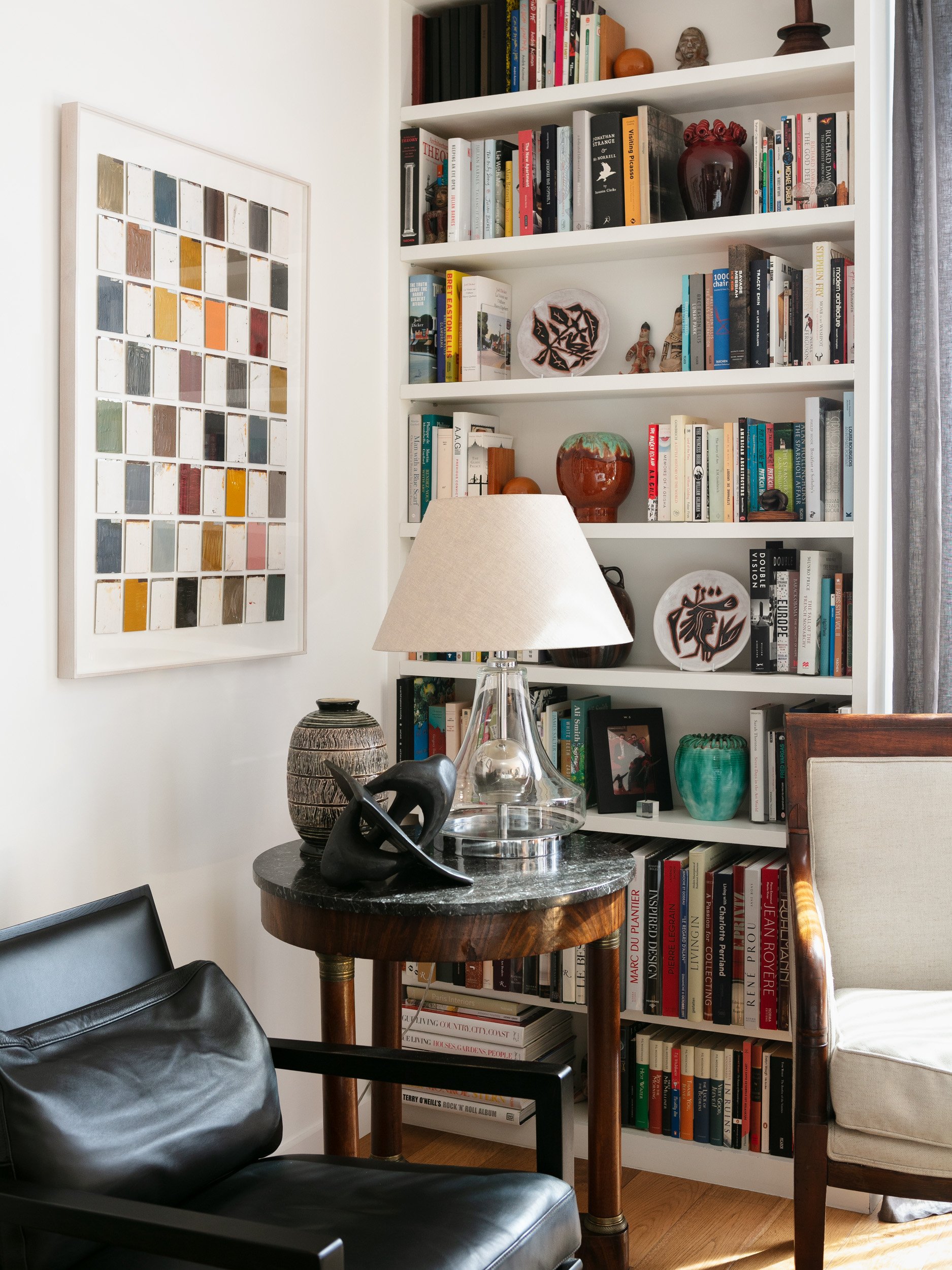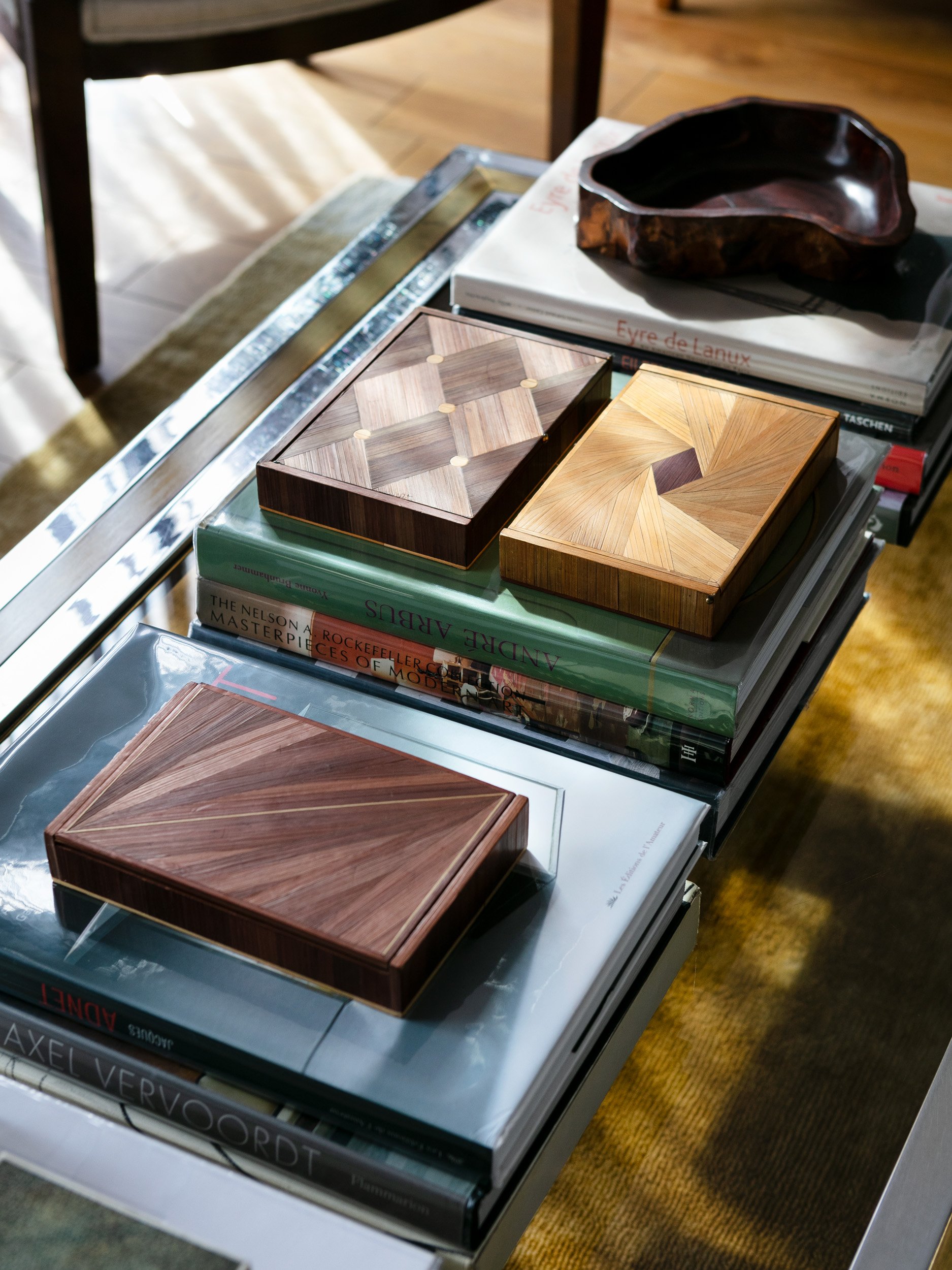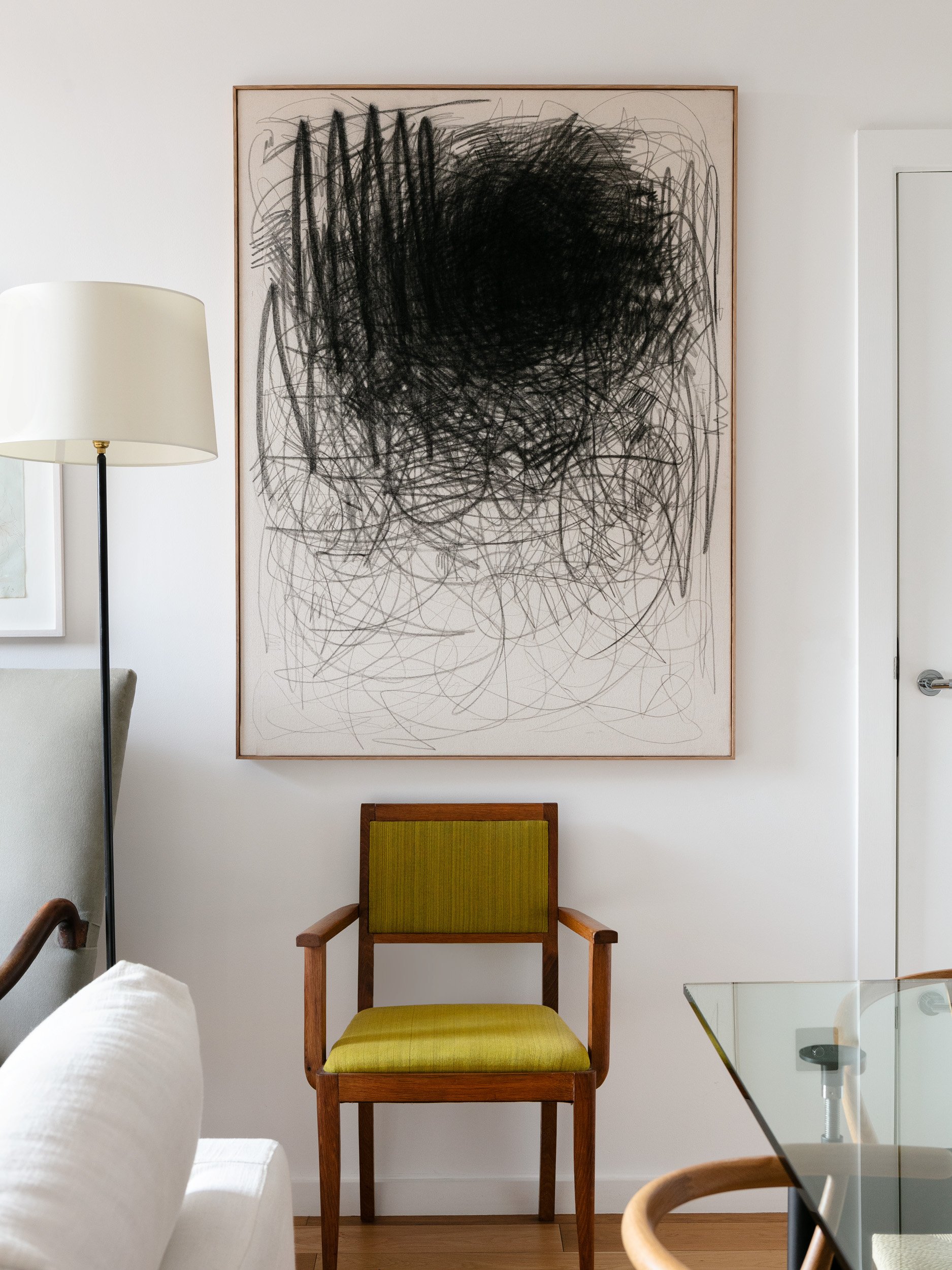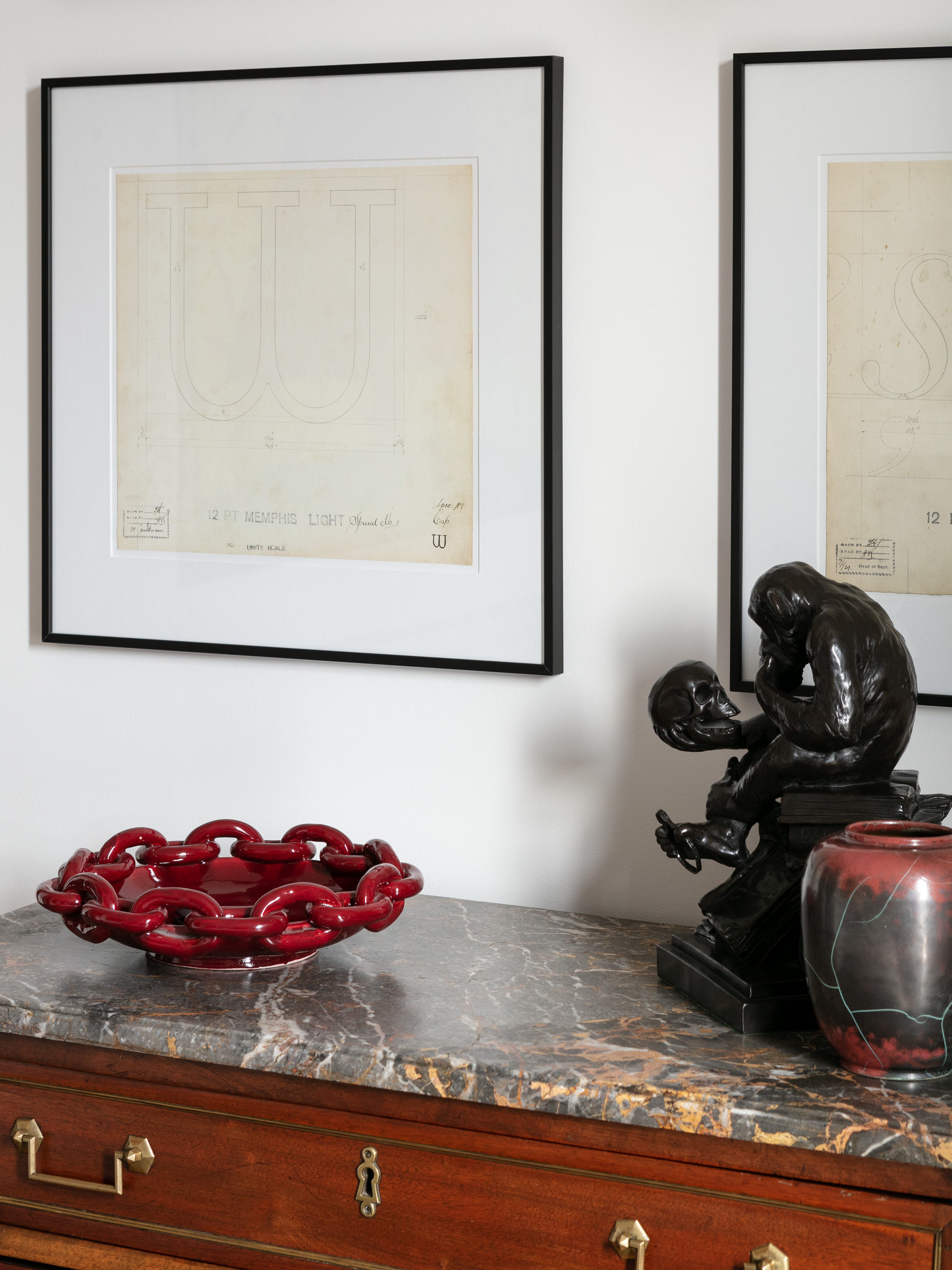 Living with Art
Ben Weaver, Collector
How would you describe your interior style?
I always joke that I only buy French furniture and Catalan art, which is more or less true, as they're both genres I naturally tend to gravitate towards. I wouldn't say I have any set approach to my own interior, as such; if anything, it's somewhat eclectic, a mixture of periods and styles that, hopefully, work together in unison. My partner and I have a large number of inherited French antiques and so filling in the gaps, so to speak, we chose largely twentieth century modernist and contemporary pieces that work with them so as to create a sense of balance; the only "new" antique, thus far, is a late eighteenth century Directoire chest in our bedroom, a period I've always loved, which serves as a visual link to the other rooms. I tend to favour works that might typically be considered masculine, as I'm not an enormous fan of an excess of ornamentation or gilt; if there's something in a room that "shouts", my natural inclination is to temper it, so as to create an overall feeling of calm. I've always believed that great pieces of design, whatever the period, can work together, and more and more so I look for furniture, art and objet that exudes a quiet confidence, where the interest is in the construction, or rather, the details; importantly though, there needs to be a conversation, and pieces must speak to one other so as to create a sense of harmony.
What do you collect?
I suppose it depends what one deems "collecting" – there's nothing specific, but I'm fairly obsessive about finding the right piece for a space. Essentially I love art and design, it's a real passion, and I could quite literally list a multitude of things that I would absolutely love to own; but unfortunately a painting by Twombly and Giacometti table are somewhat out of reach. Essentially, I tend to buy as and when I can – or on occasion I see something I simply can't resist. If for e.g. there's an artist that I particularly love, I would rather wait years, if necessary, to acquire a piece, than waste money on something I'll come to regret. More and more so I'm an advocate of the philosophy buy less and buy better. Taste is of course very personal, it can change and take time to develop until one reaches a stage where it becomes more finite; some are sure of their personal style from a very early age, whereas for others it comes later. I would say that over the past five years mine has shifted considerably, and I now feel much more comfortable in investing more in the things I love, as I know I won't tire of them; but of course it takes considerable time and dedication.  
Do you remember the first piece of art  you acquired? Can you tell us more about the story behind it?
When I was an undergraduate at Cambridge I found a wonderful little abstract painting in something that was a cross between an antique and junk shop close to my department. I thought it an incredibly striking composition and it was the first piece of art I ever bought myself – I still have it and over the years it has drawn a number of compliments; though it's currently hanging in a bathroom and so seldom seen by guests.
Where do you buy art and design from? How do you come across a specific design piece or artwork you want to buy?
If I'm looking for a particular piece I'll often try and hunt it down online, buying through smaller dealers, especially those in France, and having them shipped. However, there are certain London-based dealers who manage to find the most wonderful things that I would never have come across myself, or rather, that I didn't even know I wanted, for e.g. Quindry, Dorian Caffot de Fawes and Crosta Smith Gallery. For art I think Pep Boixader of Gallery BR has an absolutely incredible eye, and I always value his help and advice in sourcing contemporary works. I'm very much in favour of avoiding "trends", and so for inspiration I tend to go to galleries, art fairs and to view sales at auction houses etc. I've always been of the opinion that, the more one is exposed to art and design, the more one develops an individual sense of style. Indeed it's important to buy what appeals, rather than trying to replicate an interior for e.g. seen in a book or magazine – but again, confidence and knowledge go hand in hand.  
Any advice when it comes to mixing styles at home?
Whilst the world at large seems caught in the clutches of a mid-century modern obsession, I'm very much in favour of combining works of furniture and art from different eras. Antiques, especially in a modern home, can add a degree of warmth, depth and interest, thereby making an interior feel anchored and collected over time. Look for interesting profiles; pieces that are well made and classic examples of the era, or that have been overlooked for e.g. because of dated or worn upholstery. It's time "brown furniture" had a renaissance — and elegant Georgian antiques can often be picked up at local auctions for a song. The juxtaposition of pieces from different epochs or from different countries, especially when mixed with contemporary furniture and art, can make a room feel welcoming and rooted. Don't necessarily think of it as an investment, markets change and the popularity of periods and styles can dip and wane. Instead buy pieces that you love and that speak to you — choosing the right antique is often more alchemy than science.  
Your biggest bugbears when it comes to interior design and art? A trend you really don't approve of?
For much of the twentieth century interior trends were measured in decades, whereas now, they change with the seasons — thereby fuelling "throwaway" culture, which, like the fashion industry, encourages conspicuous consumption, running counter to what should be an increasing focus on sustainability in design. The circulation of print media has been in decline for decades, and within the interiors sector there has been an increasing focus on "celebrity homes" and "must haves" as a means of increasing advertising revenue; in turn, people are resulting to fakes and knock-offs in order to portray a certain aspirational image. I would encourage people to go with their gut, buy what they like and worry less about what the neighbours might think.
Your favourite museums and galleries in London?
The V&A is really quite extraordinary; the collection itself, as well as the staging and presentation, are absolutely incredible – every time I go in I seem to chance on something I've never seen before. In terms of commercial, contemporary works, I absolutely love the Carpenters Workshop Gallery, their roster of artists is second to none and I'm always astounded by the originality and craftsmanship of the pieces they exhibit. Outside London, whenever I'm in Paris I make a stop at Musée Picasso and have particularly fond memories of the Calder-Picasso exhibition in 2019 – then of course there are the Giacometti benches, tables and light fixtures, which are absolutely magical.
Three artists from Canopy Collections whose work you would live with?
The three artists I'm probably most drawn to are Irvin Pascal, Ralph Hunter-Menzies and Francesca Anfossi. In the case of Pascal, I've always loved ethnographic art and have a few pieces in my own collection; I find the way he combines the characteristics of African and tribal art with pop incredibly appealing. Perhaps a result of my living in the city, Hunter-Menzies's paintings, which draw from an industrial landscape, simplifying and abstracting urban forms, makes them at once both familiar and intriguing. As for Anfossi, I've always loved ceramic as a medium and have a passion, in particular, for Primavera and Vallauris; her ceramic stools are therefore something I would love to have, both graphically and in terms of materiality - and I've always had a fondness for antique Chinese garden seats, of which they are evocative. 
Your go-to magazine when it comes to living with design and art or other lifestyle book references?
The only magazine I look to is World of Interiors, even if by and large I find the balance a little too far towards the traditional, there's an honesty and integrity that one simply doesn't see in other publications. I find the majority of interiors magazines often produce imagery that is too sterile, devoid of life, and lacking those personal details that make an interior interesting. The French photographer François Halard has a particular talent for capturing the spirit of an interior; indeed perhaps my favourite photograph of art collector Maja Hoffman's palatial London townhouse (published in Architectural Digest) is that of her partner, the film producer Stanley F. Buchthal, at work in his study with books and papers piled everywhere and an array of personal mementoes in plain sight. Signs of life shouldn't be seen as an imperfection; life itself isn't perfect, and it's often personal mementos, or simple everyday detritus, that says more about a person than a Picasso hanging over the fireplace. 
Any projects in the pipeline?
I'm currently in Paris to meet with a number of makers and gallerists with a view to new articles and interviews. Aside from that I'm looking to expand, or to do something new, and so I'm currently weighing my options.
Ben Weaver is a British Design Consultant and Chief Editor of The London List, a digital publication that explores art, architecture and design. With a focus on twentieth century and contemporary design, The London List aims to foster a greater understanding, from an art historical stand point, of the lives of architects, artists and designers who over the decades have created those radical works of art which we now consider to be iconic.