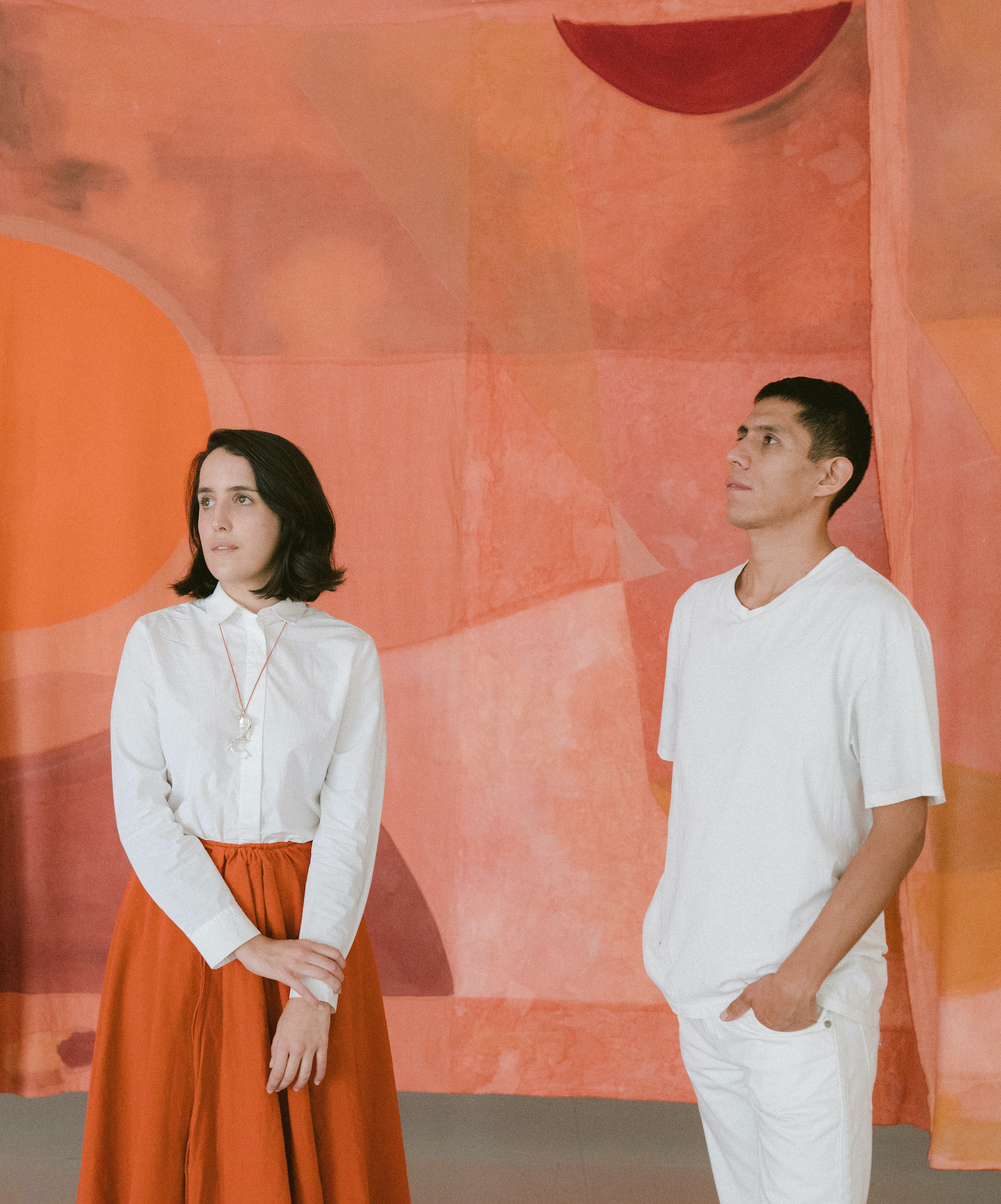 Event
Celeste: A Portable Landscape
We are delighted to present Celeste, an artist duo from Mexico, for their first solo show in the UK. Entitled A Portable Landscape, the exhibition brings together a selection of textile and copper works by María Fernanda Camarena and Gabriel Rosas Alemán, including a seven-metre-wide triptych, which have never before been shown in Europe.
Employing a diverse range of materials and disciplines from sculpture to textiles, Celeste's work is characterised by a meeting of the pair's aesthetic sensitivities. The individuality of each artist is unified to make space for one collective voice, whose work promotes coexistence and interaction. A couple in life and in work, Camarena and Alemán began to produce works together in 2020, which they debuted in their acclaimed institutional exhibition at Museo de Arte de Zapopan in the same year. The duo shares a visual language that 'understands geometry as a rhythmic expression of inwardness and the exterior world'. They create work that is purposefully reminiscent of the Mexican tradition of murals, combining the pictorial with the architectural.
A Portable Landscape uses a selection of key works to present a distillation of Celeste's world and celebrate the variety in their shared modes of expression. From monumental fabric paintings to delicately crafted copper sculptures, these works are an exploration of both what is intimate and infinite. Quilted textile works allude to domesticity and closeness, while large-scale fabric paintings evoke terrestrial landscapes and the cosmos. Their recognisably muted palette is achieved with natural dyes derived from their kitchen pantry; blushing reds, burnt oranges and wispy blonde yellows that convey an atmosphere of warmth and intimacy.
Central to the exhibition is the triptych Palabras dulces y fuertes como aroma de orquídeas, whose poetic title was inspired by the Chinese cosmological text The I Ching and translates into English as The words that in their union use, Fragrance like orchid plants diffuse. This work was the climax of Celeste's inaugural museum show in Zapopan, which focused on the vessel as a metaphor through which to convey their artistic process and the necessity of creating space for one another. The symbolic value of the vessel remains present in A Portable Landscape, and it appears throughout the exhibition as a container, a void, a painted motif and three-dimensional objects.
Behind all of Celeste's work is the intention of creating a repository for new experiences and memories. Whether manifesting as a temporary installation in the city, a permanent domestic display or a public event, their practice
is not only concerned with objects but the creation of an atmosphere. Hospitality has always been central to their practice, and with each exhibition, the artists continue to assume a role as hosts to involve the spectator with a sense of ceremony. In their own words, 'it's about the possibility of creating a world of one's own, a personal story, and the atmosphere one wants or needs'.
Celeste is an artist duo from Mexico comprised of María Fernanda Camarena (b. 1988) and Gabriel Rosas Alemán (b. 1983). They live and work in Mexico City. Recent solo exhibitions include Celeste at Museo de Arte de Zapopan, Mexico (2020); Tepetlapa at Pangée Pangée, Montreal (2021); Manta de cielo at JO-HS and Sin saberlo doblé el tiempo at Guadalajara 90210, Mexico City (2022). Forthcoming projects include a solo show at The Austin Contemporary in Texas, US and a commission for the new Soho House building in Mexico City.
Celeste: A Portable Landscape
17—29 January 2023
The Wing Gallery at Cromwell Place
4 Cromwell Place
London SW7 2JE
FREE entry
Open Tues to Sat 10am—6pm, Sun 10—4pm