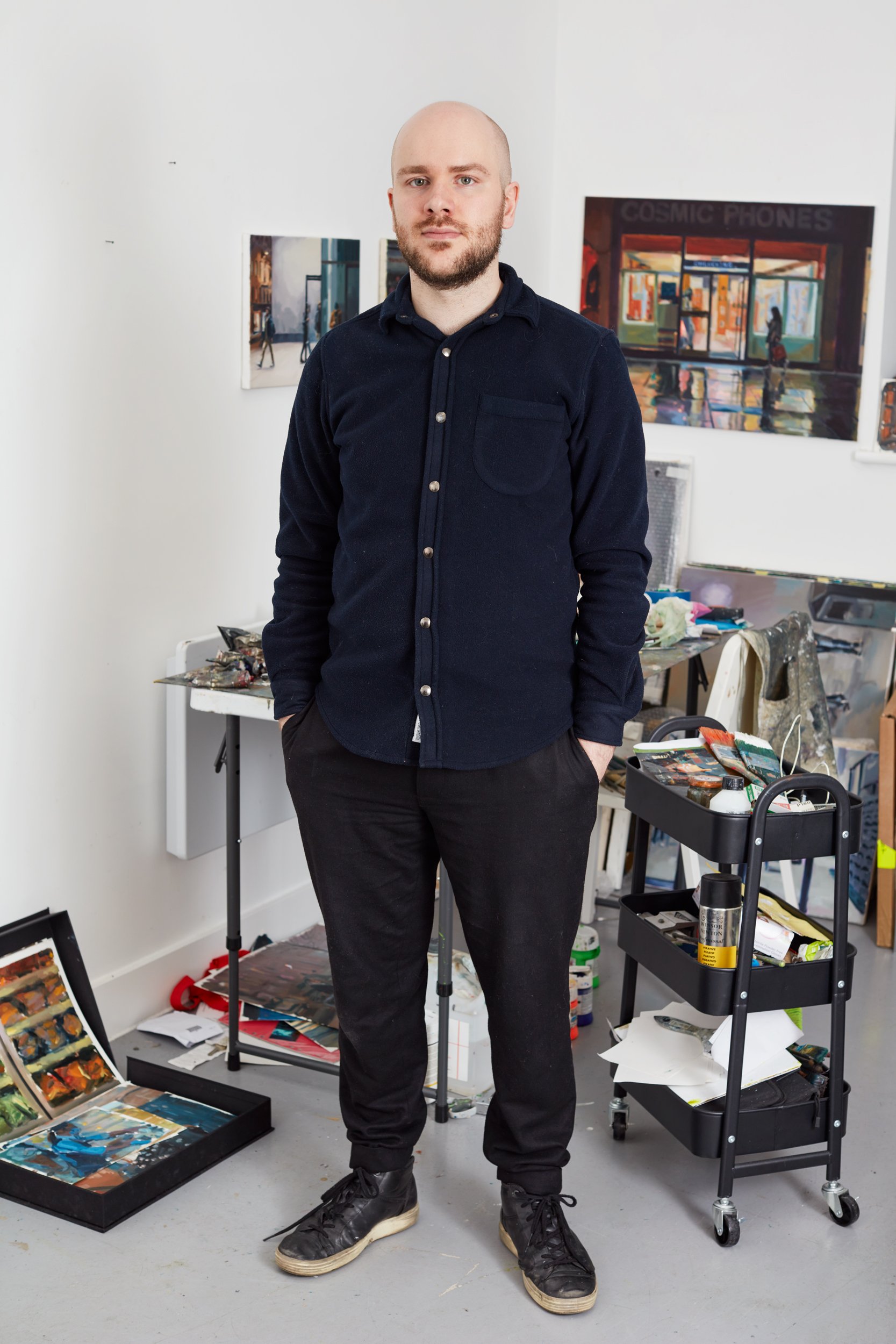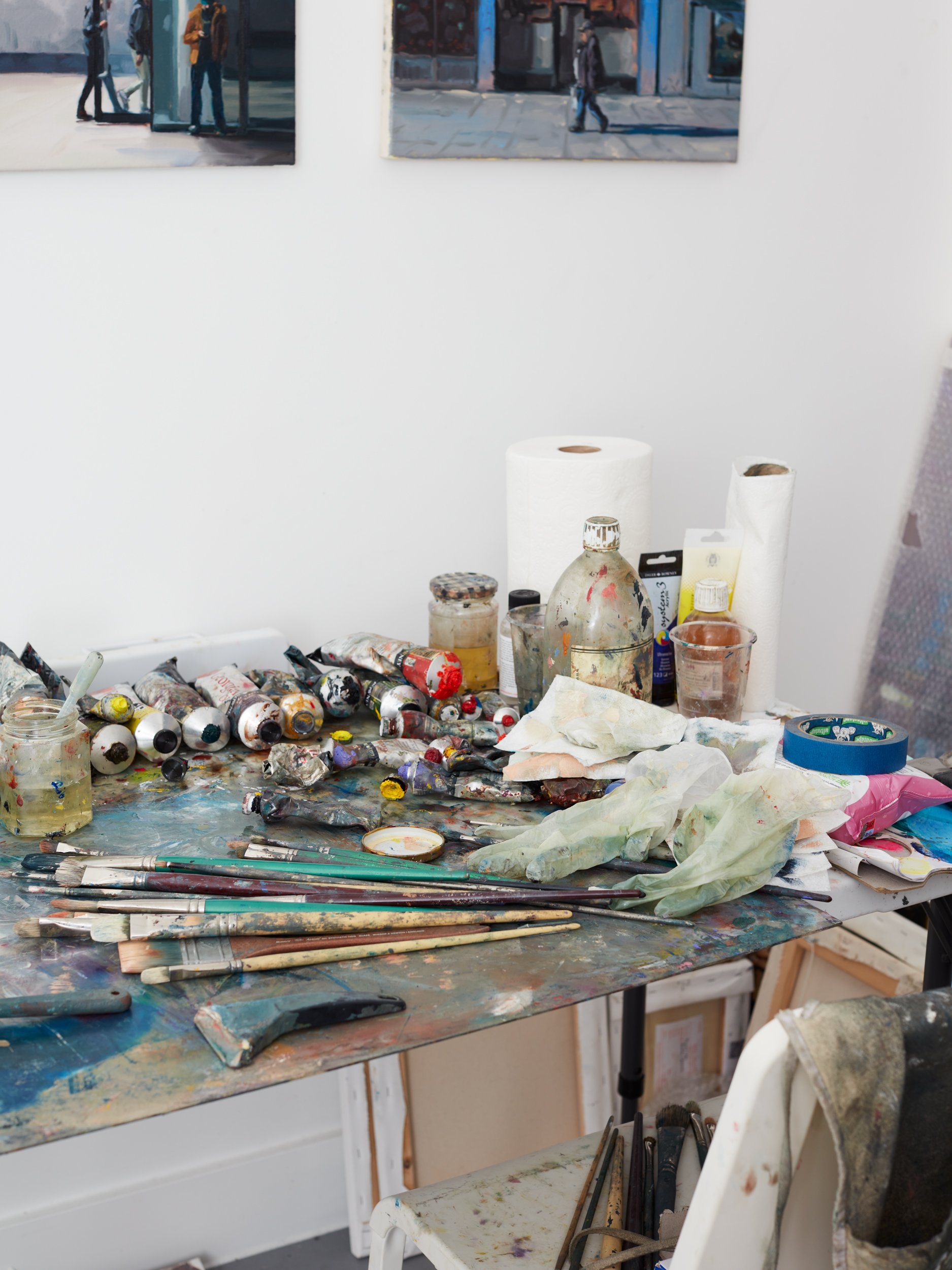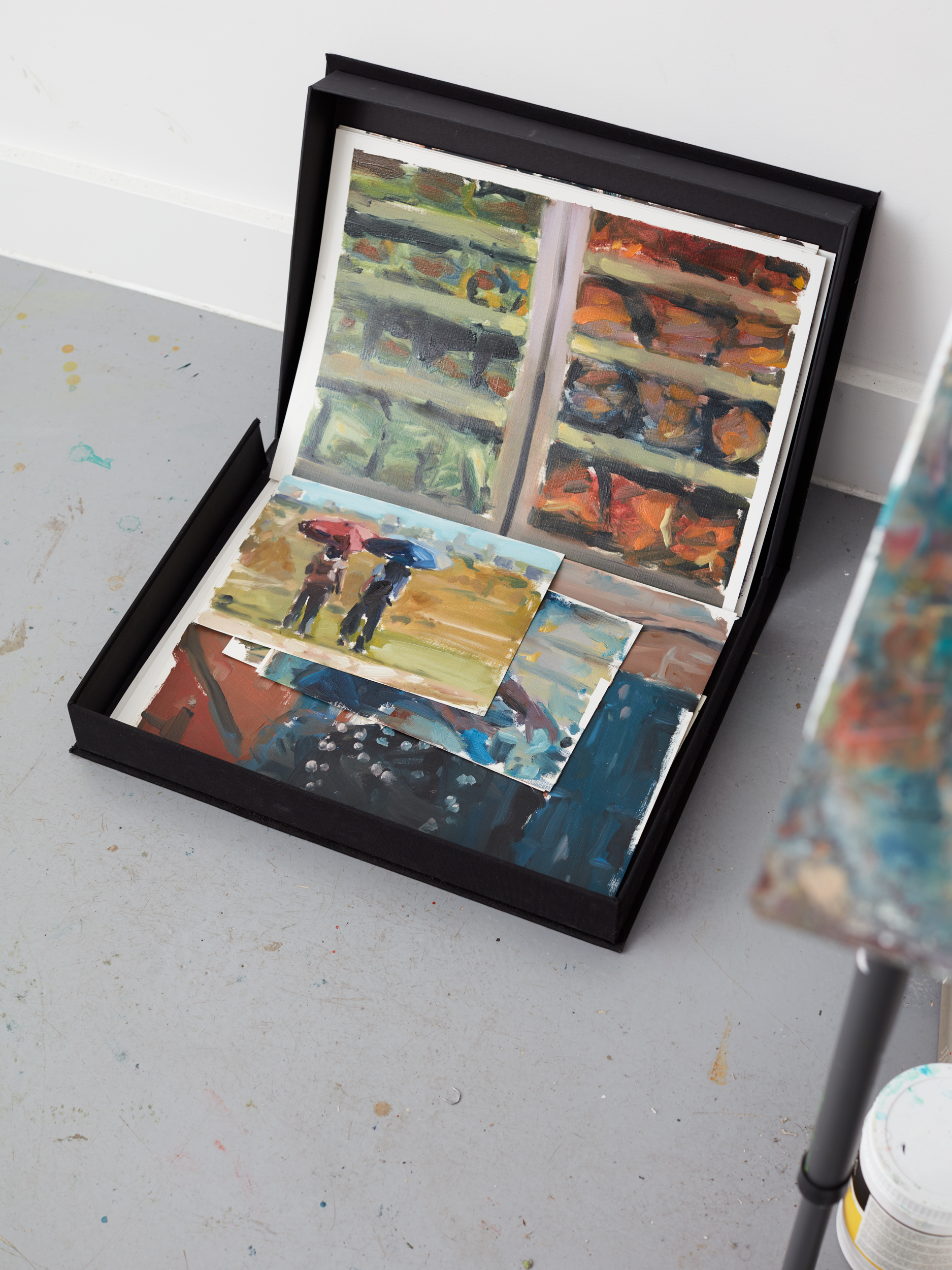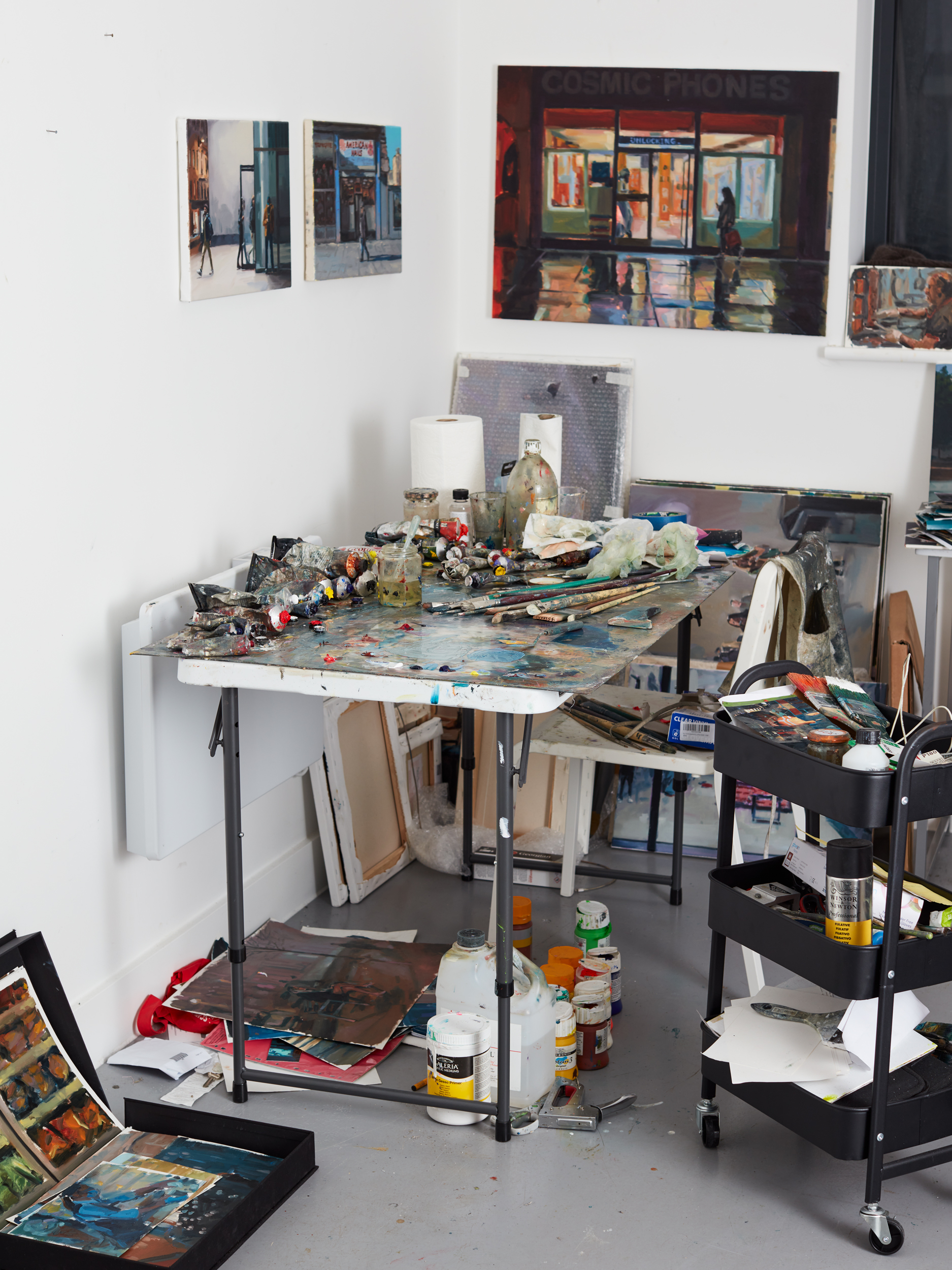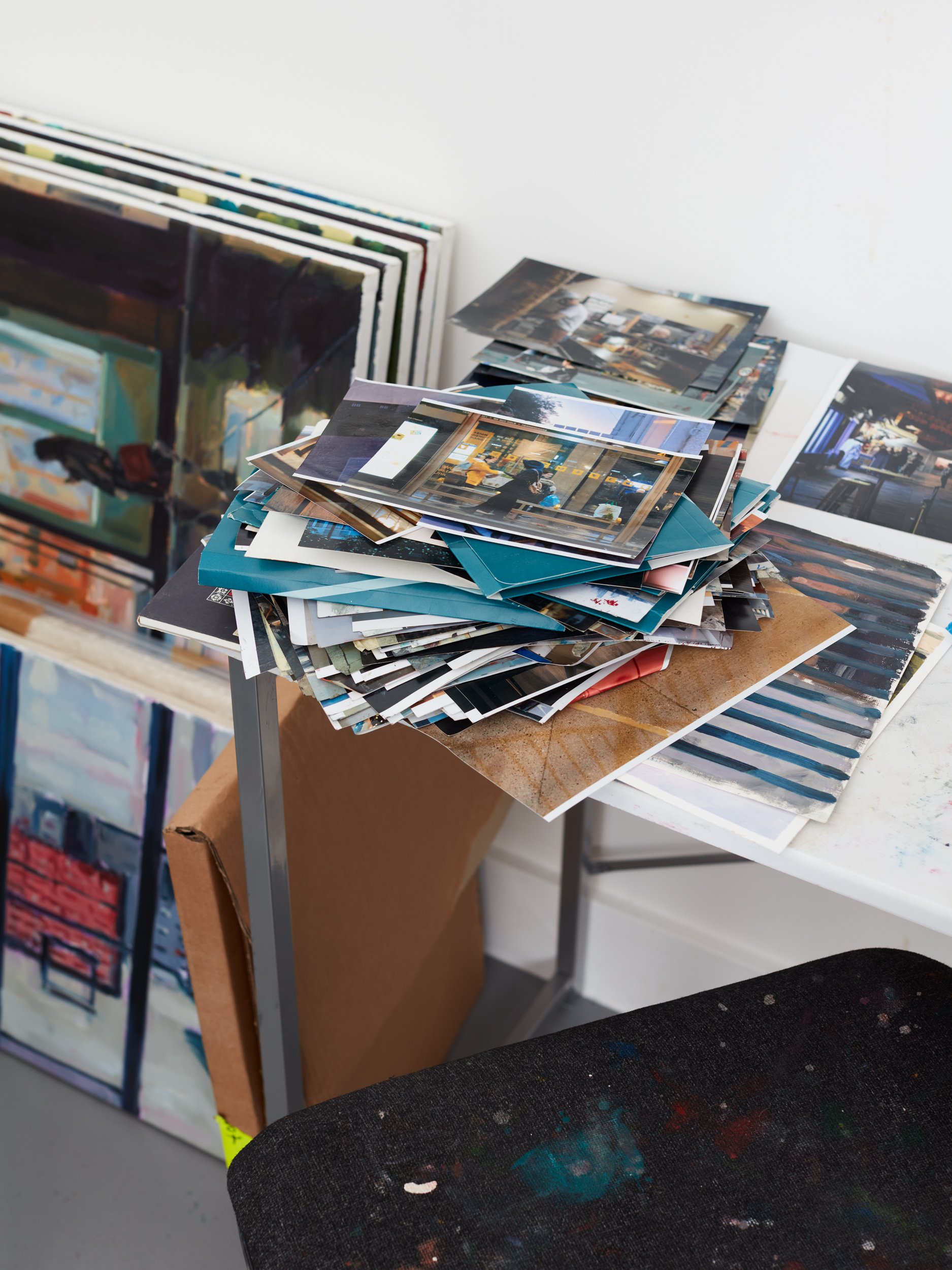 Meet the Artist
Thomas Cameron
Can you describe your work in three words?
Everyday, Filmic, Flaneur.
What got you into the arts? How did you become an artist?
I've always enjoyed drawing and would make comics in school. Inspired by street art I would make detailed, layered stencils. When I first tried oil paint I was drawn to how much more versatile it was than other mediums. I went to life drawing classes and painted portraits from life, which was a great way to learn colour mixing and working quickly.
What drew you to painting more specifically?
My first paintings were made with unusual mediums. For example, in school I made a series of portraits based on family photographs using tyre paint on paper primed with enamel spray paint. The tactility and richness of colour in oil paint is what drew me to it. I enjoyed the process of figuring out how different effects could be created and what effect this would have on how the painting is read.
What inspires you?
Most of the inspiration for my work comes from the world around me, when I'm walking through the city everything looks like a potential painting. All my paintings are based on happenstance encounters during my commute, or while shopping. Inspiration can come from anywhere, often the more unexpected it is, the more it interests me.
What do you hope to convey through your paintings?
A sense of connectedness, a way of looking at the familiar in a way that is both a celebration and a critique. The atmosphere is my main concern and I hope that people can relate to this and find comfort in a shared way of looking at the world. Primarily I hope the work is appreciated for the formal qualities of the paint. To reflect how we are living now whilst being timeless, in the way that Hopper's paintings resonate with us 100 years later.   
Have you always been interested in figuration? How do you choose your subjects?
Yes, initially I was drawn to portraits, and I practiced portrait painting and life drawing. During my BA (in Dundee and Germany) I focused on empty urban/suburban scenes. There was always a strong sense of human presence though; I would paint empty chairs, windows and domestic interiors. During the pandemic I became more interested in depicting people in the city in a more obvious way. This came from walking around empty streets and seeing lone figures or couples. I choose my subjects intuitively, but what is going on in my life and in the world influences these choices.
Who are the artists that have inspired you most?
Film is a big influence, most recently the films of Wong Kar Wai have been particularly inspiring. Photographers include William Eggleston, Martin Parr and Hannah Starkey. Painters include Sickert, Manet, and Hopper. Contemporary painters include Caroline Walker, Liu Xiaodong and Eric Fischl. 
What interested you about joining Canopy Collections?
I was really impressed by the quality of the artists that show with Canopy Collections. Most recently I really enjoyed Charlotte Beaudry's exhibition at Cromwell Place. The presentation of the works, and care and attention to detail gave me confidence in joining.
Do you collect art from other artists? How important is it for you to live with art?
Yes, I love to collect work. Some were purchased through the artist support pledge during the pandemic, I also have a few lithographs and have swapped work with artists I admire. Over the years different artworks I live with remind me of specific times and memories, as well as continuing to inspire me.
Any projects in the pipeline?
This month, I am part of a three-person show in Peckham curated by MAPA, as well as the RBA Rising Stars in London and the BBA Art Prize in Berlin. In May, I will exhibited a painting at the X Museum in Beijing. 
DISCOVER THE ARTIST'S WORK